I picked up Always on my Mind by Susan May Warren earlier this year, and when Roark made his brief appearance at the very end of the book, I knew that I'd be reading The Wonder of You!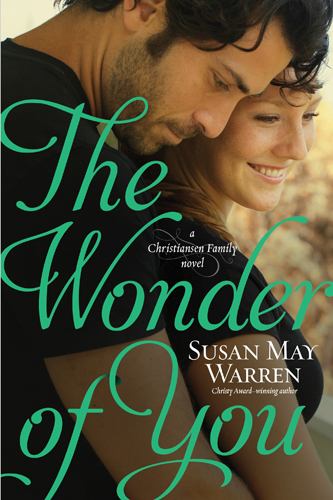 I'll admit to being a bit of a romantic, and there is something inherently romantic about crossing an ocean for someone. That's exactly what Roark St. John does for Amelia Christiansen! They met when Amelia was studying photography abroad, but Roark is keeping secrets about his past. The resulting misunderstanding sends Amelia back across the Atlantic and home to Deep Haven. She certainly didn't expect him to show up on her doorstep… Roark takes a job at the local coffee shop and is determined to win her back. But he's got competition in the form of Amelia's high school sweetheart Seth, who's doing his best to convince Amelia that she should settle down in Deep Haven with him.
I particularly enjoyed the characterizations in The Wonder of You. Roark has an intense back story, and struggles terribly with guilt because of it. Amelia struggles through the story to sort out her own heart and discover where God is leading her. I enjoyed watching the growth of both characters develop through the book. I was also glad to see other members of the Christiansen family make appearances through the story, particularly the side plot involving Grace and Max from When I Fall in Love. (Those two are keeping a secret of their own through part of the book!) I just loved the end of the book, and the chance to see the amazing things that God had in store for the characters. I always find reading stories like that to be encouraging, and a great reminder that God is at work in my life too!
I do wish the character of Seth had been a bit more likeable, but that's the only thing I would change about The Wonder of You.
The Wonder of You is the fifth book in the Christiansen Family series. You could certainly read it as a standalone novel, but I'd still recommend reading the rest of the series first. It's reminiscent of the Karen Kingsbury books that follow the Baxter family. Fans of those books won't want to miss out on this one by Susan May Warren. The next book in the Christiansen Family series will certainly be on my reading list!
Note: I received a free copy of this book from the publisher in exchange for my honest review. All opinions expressed are completely my own.