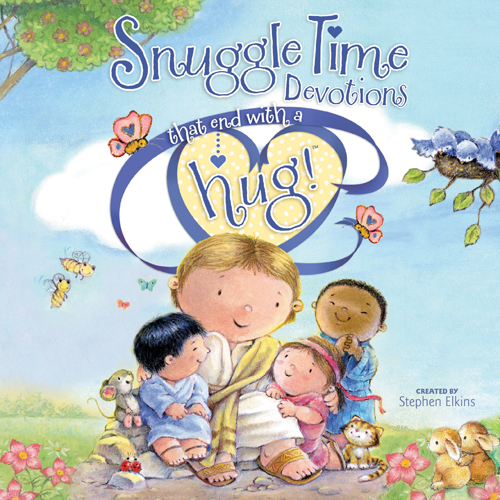 What little one doesn't love to snuggle on Mommy or Daddy's lap and listen to a story? All of my children have! I knew when I saw Snuggle Time Devotions by Stephen Elkins that it was perfect for reading to Little Guy!
Snuggle Time Devotions is ideal for toddlers and preschoolers. Each story begins with a Bible verse, and then contains a short paragraph called My Snuggle Up Story that tells the Bible story in rhyme. (The scripture reference where the story can be found in the Bible is included at the beginning of the story.) The My Snuggle Time Takeaway answers the question, "What can we learn from this story?" I think this is a great addition because it shows kids that we can apply what we read in the Bible to our own lives! The section My Bible Time Activity is fabulous for the hands-on kids because the section contains some sort of pretend play, art, or other activity that relates to the Bible story. One of the Noah's Ark stories directed us to draw a rainbow with the ark underneath it. Each story ends with a hug! For example, the book might say, "Give the one God has promised to love a great big hug!" There are 52 stories that span both the Old and New Testaments.
So many devotionals are targeted towards elementary age children. It's lovely to find one that's intended for the younger kids like Snuggle Time Devotions. My favorite thing about it is the Bible stories written in rhyming patterns. I enjoy reading rhymes, and it seems to keep the attention of my youngest better too. I really appreciated that the illustrations aren't particularly cartoonish, but rather sweet and nicely drawn. Little Guy's favorite part was definitely the hugs! He also enjoyed the activities quite a bit, so I'm glad that they were included for each story.
Both Little Guy and I love reading Snuggle Time Devotions! When we finish reading one, he always asks me to read another. It's one of those rare books that I honestly can't think of anything that I would change about it.
Snuggle Time Devotions is the perfect gift for a young child, and it would also make a nice baby shower gift. (It's definitely the kind of book that my mom would have picked up for her grandbabies!) I think it would be a wonderful addition to any church nursery or daycare as well.
Note: I received a free copy of this book from the publisher in exchange for my honest review. All opinions expressed are completely my own.