Anyone looking for a great Valentine's Day read? Then Paper Hearts by Courtney Walsh should be on your reading list! Here's a peek at the synopsis from the back cover: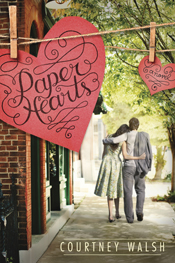 "Abigail Pressman would never have guessed that love notes penned on paper hearts by an anonymous couple could restore her belief in love. As a business owner in a quaint town at the base of the Rockies, she's poured everything into dreams of expansion . . . and resisting the matchmaking efforts of the Valentine Volunteers, who gather in her store to continue Loves Park's tradition of stamping mail with the city's romantic postmark.
When Abigail is unwillingly drafted into the Volunteers, she encounters the paper hearts, a distraction that couldn't come at a worse time. A hard-to-read doctor has become Abigail's new landlord, and he's threatening to end her lease to expand his practice.
As she fights a growing attraction to this handsome man crushing her dreams, Abigail is inspired to string the hearts in her store, sparking a citywide infatuation with the artsy trend. But when a new batch of hearts reaches the Volunteers, it appears something tragic has happened to the couple. Will uncovering their story confirm Abigail's doubts about love, or could it rescue her dreams . . . and her heart?"
I just fell in love with this book! The fact that Abigail owns a bookstore and is a practical girl definitely might have had something to do with it. The Valentine Volunteers are supporting characters, but I enjoyed reading about them so much! I wish that there had been a bit more about them in the book, and I hope they will be featured in another book soon. I like it when authors write characters with realistic struggles and problems. Courtney Walsh did a great job with that in Paper Hearts.
The setting was fantastic. I can just picture Abigail's store, The Book Nook, and I so want to stop in for a book (or three) and a cup of coffee!
Among the themes explored were learning to forgive yourself and accepting that your plans are not necessarily the plans that God has for you! One of the things that I appreciated the most about the story was that it touched upon the topic of living with a loved one who suffers from depression. That's a pretty sensitive and hard subject to deal with, but it was handled so well in this book. It's rare to find a book willing to delve into depression and suicide. In fact, I would have liked to see this discussed a bit more in the book because the author did such a good job of addressing it.
This is a lovely book for fans of contemporary fiction. It would also make a lovely Valentine's Day gift for the book lover on your list! I'd tend to suggest that it's best for older teens and adults simply due to the fact that it does address weighty topics like depression and suicide.
Before you go, take a peek at the book trailer for Paper Hearts. It will make you smile, and might even inspire you to start your own paper heart tradition!
Note: A free copy of this book was provided for me by the publisher in exchange for my honest review. The opinions expressed are my own.