I'm a dreamer. Have been since I was just a little girl, and I've not grown out of it yet! When I read this on the cover of Longing for Paris, I knew that I had to read it:
"One woman's search for joy, beauty, and adventure – right where she is."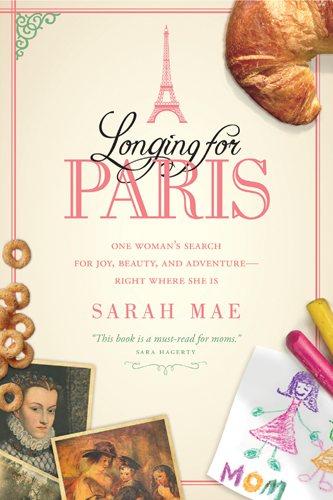 Sarah Mae is a wife and homeschooling mom, so right away I felt like I could identify with her a bit. Even so, I was a bit nervous going into it. Would this be one of those books that told me to stop dreaming, grow up, and just focus solely on my family? Or, would it be a book that just re-iterated how I had to set aside time for my dreams and not become distracted? Turns out it was neither.
At the beginning of Longing for Paris, Sarah Mae tells us how she longs to visit Paris, and through the book mentions various reasons why. That's where she starts, but the rest of the book will take us through deeper longings and questions. Seriously, get reading to do some thinking when you pick up this book!
Each chapter ends with and "Unearthing Your Longings" section that will give you something to ponder and suggestions for scripture to meditate on further. There's also a little "An Invitation to Paris!" box that gives you a fun idea for incorporating a little bit of Paris into your life. Paris isn't exactly a place that I've longed to visit, but it was still neat to figure out how to make the suggestion fit with my own longings. (Cottage on the rugged Maine coastline anyone?)
So many of the books in this genre that I've read tend to be rather shallow, but what I appreciated the most about Longing for Paris was that it gets so much to the heart of things and continually directs my focus back to God. There's a lot of emphasis on our relationship with Him all through the book. And really, if the longings of my heart are ever to be fulfilled, then I must start by growing my relationship with God.
That's not the only relationship that is discussed though. My relationships with my husband and kids are important too! Sarah Mae doesn't shy away from reminding us just how important it is to pour ourselves into our children. Yes, sometimes our dreams do have to give way for the sake of our kids, but it's more than worth it. Seems that I need this reminder more often that I'd like to admit. I enjoyed hearing her talk about her husband and her children. It reminded me that the real stories aren't movie moments, but they are so much more beautiful because of it.
Reading Longing for Paris has challenged me to spend more time meditating on scripture and purposefully spending time cultivating my faith. It's far too easy for me to let that slide when things get busy. I have to make this a priority though, and it's another reminder that I desperately needed right now!
As I said earlier, I'm a dreamer, and I loved what Sarah Mae said about dreams in chapter 7:
"I am not chasing my dreams; I am simply accepting what God puts before me.
And I think that's the trick – not chasing dreams, but surrendering them and yourself to the Lord."

I have to admit, there are a lot of my teenage dreams that did not come true, but God gave me new dreams. Better dreams.
Longing for Paris is a book that I'll definitely have to read through again. I absolutely recommend it to the moms out there who are secretly dreamers and adventurers. You'll be glad that you picked this book up!
Note: I received a complimentary copy of this book from the publisher in exchange for my honest review. All opinions expressed are solely my own.