I enjoy reading long books that require me to think deeply about the topic being discussed. It takes time and focus to read through books like that. These days, I don't seem to have much of that to spare! Books like 8 Simple Tools for Raising Great Kids by Dr. Todd Cartmell are exactly what a busy parent needs.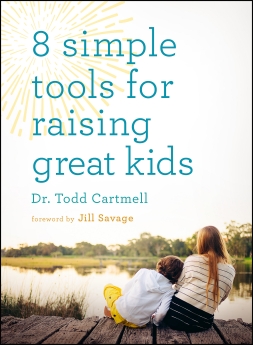 No one ever said that raising kids would be easy! I think most of us would say that we could use a bit of encouragement and a few tips to help us along. Dr. Cartmell's tools are talking, listening, influencing, connecting, teaching, encouraging, correcting, and leading. There are five chapters addressing each of these in 8 Simple Tools for Raising Great Kids. I'll bet you just added up how many chapters that makes, and now you're thinking that a 40-chapter book is definitely a long one! Ah, but each chapter is only a few pages long, so you really can read a chapter in just five minutes. It's even the perfect size to toss into your purse or laptop bag for those days when you hit the ground running. Just pull it out while you're waiting in the dentist's office and read a chapter!
While I was reading 8 Simple Tools for Raising Great Kids, I definitely noticed things that I could do differently or maybe just better. And the tip at the end of each chapter sums up the main idea in a way that makes it easy to figure out how to apply the idea in my own parenting. (All of the end of chapter tips are listed at the back of the book for easy reference too!) I'll be honest, there were a number of things mentioned that just hadn't really occurred to me. I'd guess that's true of a lot of parents. We're so busy, that some pretty simple ideas for really connecting with our kids and developing a relationship just don't occur to us. That's why this book is a great idea!
There are 40 short chapters in 8 Simple Tools for Raising Great Kids. What if, we parents read just one chapter a day and focused on using that tip at the end of the chapter? What would our relationships with our kids look like at the end of 40 days? That might be a challenge worth taking on!
If I've piqued your interest, you'll want to check out this website: http://www.8simpletools.com/
You'll find assessments you can take to pinpoint areas of your parenting that need a little work. Take a peek at an excerpt from 8 Simple Tools for Raising Great Kids while you're there! And, for a limited time, you can download the Essential Workshop Collection for Parents free with the purchase of the book. Just to sweeten the deal, Moody Publishers gave me a coupon code to share with my readers! Just use GREATKIDS16 when you order your book directly from Moody to receive a 50% discount. (This code is valid April 15, 2016 through May 15, 2016.)
Now that I've read through the book once, I'm going to go back and read one chapter per day, focusing on implementing that particular tip in my parenting. Who else is up for the challenge?
Please Note: I received a complimentary copy of this book from the publisher in exchange for my honest review. All opinions expressed are completely my own.